Article
Should You Buy Or Build Your Home?
January 10, 2022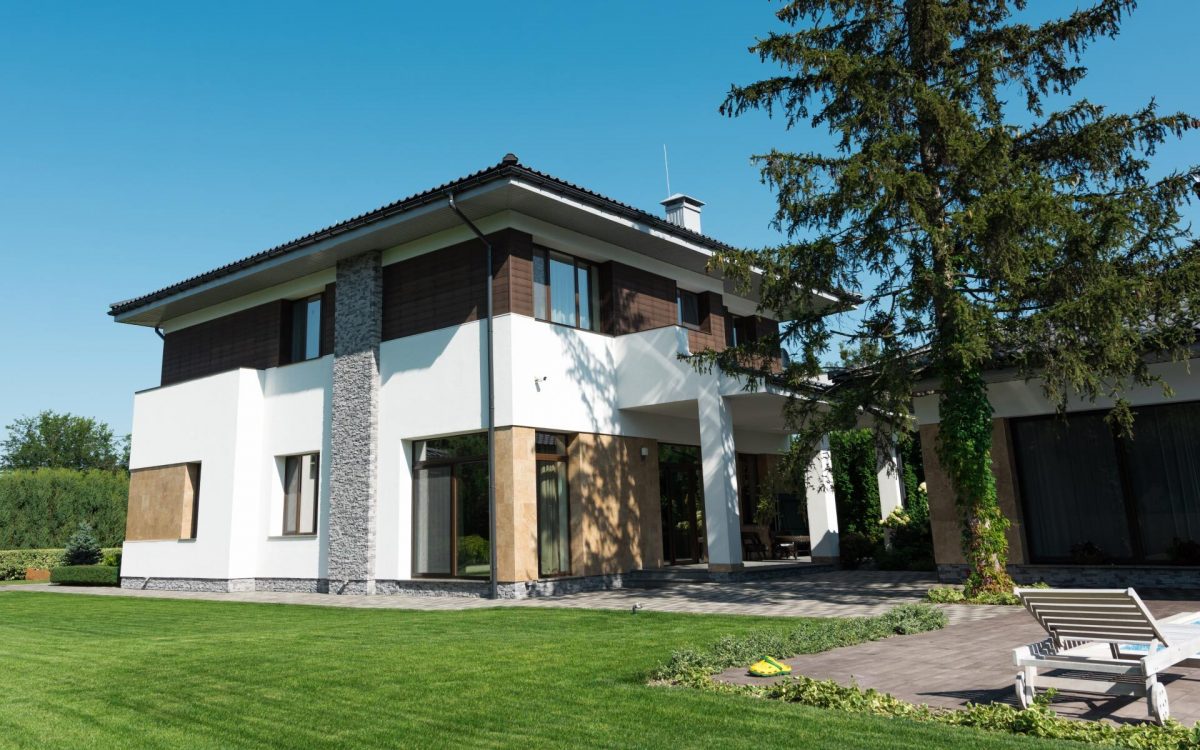 "Weigh up your options, and don't forget to account for depreciation expenses when it's all said and done." – Zac Gleeson, Director
It's the age-old housing debate, is it better to build or buy your own home?
New building approvals shot up in the first half of 2021, driven by government incentives such as HomeBuilder. But in recent months, building approvals have started to drop off.
Now that HomeBuilder has run its course, if you're looking for a new home, should you build or buy?
Arguments can be made for both until the sun goes down (and longer), but we've tried to focus on a few key points to help you make your decision.
Is it cheaper to build or buy a home?
There are so many differing opinions on whether building a home or buying one is the way to go but for the majority of people, the biggest deciding factor in any decision comes down to money.
A house will typically be the most expensive thing a person owns in their life, so the cheaper option will often be the more popular option.
Let's first look at the cost of building a home.
It's hard to overstate just how difficult it is to pinpoint how much it costs to build a house.
The Urban Development Institute of Australia's (UDIA) annual State of the Land report for 2021 revealed the median costs and lot sizes across the country.
Using their data, we can see the median cost of buying a lot of land across the capitals in the table below.
Unsurprisingly, Sydney had the most expensive median lot price, followed closely by the Australian Capital Territory, while Adelaide had the cheapest median lot price.
Data for Hobart and Darwin was not recorded.
While building a home doesn't require you to pay stamp duty on the building itself, it is required on a lot of land which, as you can see in the table below, can be extremely costly.
First home buyers are eligible for exemptions on stamp duty, with differing legislation across the states.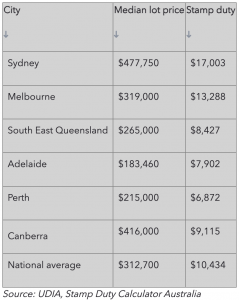 While it's relatively easy to find the cost of a lot of land, the exact cost of building a home can vary massively.
Data courtesy of Rider Levett Bucknall detailed Australia's construction building costs from 2021 for custom-built, single and double-storey dwellings.
As seen in the table below, Sydney had the highest build cost at $432,180, while Adelaide had the cheapest at $314,736.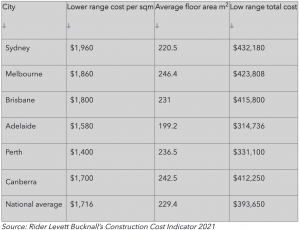 It's important to understand that these figures are an extremely rough estimate and should be treated as such. They don't take into account whether the land needs to be levelled, use of high-quality materials or accessories, delayed timeframes, and a plethora of other factors that come with building a home.
So using our very rough estimates, we can garner an idea of how much it would cost to build a house in Australia by totalling the median lot cost, stamp duty, and low range cost of the build.
As seen in the table below, Sydney marginally comes in as the most expensive city to build a home, followed closely by Canberra. On the other hand, Adelaide is the cheapest capital city to build.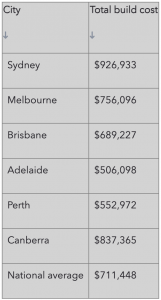 To gain an insight into which option is roughly cheaper, we can compare these total costs of building estimates to median housing values.
CoreLogic figures released in December revealed the median house prices for each capital city as well as the national average.
By comparing them in the table below with the total build cost estimates, we can see the recent housing boom has pushed housing values higher than new build costs.
The national average suggests it could currently be around $160,000 cheaper to build than it is to buy.
Again, these are extremely rough estimates. The cost should not be the only factor you consider when deciding on whether you build or buy.
These figures are also based off of the capital cities as figures are not easy to find for regional areas. As a result, it may be cheaper to build rather than buy or vice versa in regional areas across the country.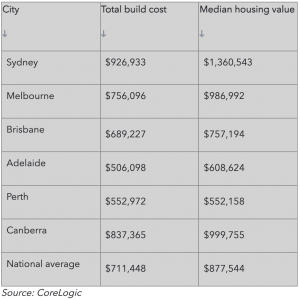 Pros of building a home
Without considering the costs, there are a number of advantages that come with building a home compared with buying one.
1. Personalisation
Building a home from scratch will typically mean you're involved in each step: finding and buying a lot of land, choosing your builder, deciding how many storeys there are, bedrooms, bathrooms…the personalisation options are endless. The construction and building industry are partly so massive because of the variety of homes and features available. If you want to build a ten pin bowling alley in your house and have the funds to do so, you can! Finding a house that meets your every need can be far more difficult when simply buying an existing home.
Additionally, choosing higher-quality materials means there's less chance of your home requiring maintenance down the line, as well as improving the value of your home. In contrast, an established home may have existing maintenance issues prior to your arrival.
2. First Home Owners Grant
The First Home Owners Grant (FHOG) eligibility and payments differ between states and territories. However, the one constant is that it's available for those building a home. Homebuilders can expect to receive at least $7,000 from the state or territory government to assist them in paying for the building which can hugely help when saving for a deposit. The FHOG is also available to those buying a brand new home.
3. Stamp Duty
As evidenced above, stamp duty costs can rack up into the tens of thousands of dollars. If you're a first home buyer then you may be eligible for a concession but many people aren't in this boat. Building a home means you only have to pay stamp duty on the lot of land and not the property itself. To show you how much that can make a difference, let's take Sydney as a case study.
Building on the median $477,750 land lot in Sydney will mean you have to pay around $17,003 in stamp duty on the land. In comparison, buying an established property in Sydney at the median dwelling price of $1,360,543 will cost you around $60,028 in stamp duty – more than double what you would pay if you built.
4. Energy efficiency
Part of the personalisation aspect of building a home means you can choose the materials, lighting, and cooling used throughout the home. Choosing energy efficient options when building your home can save you thousands on electricity and gas costs. High-quality materials like double glazed windows and doors will block out noise and reduce heat penetration by up to 40% compared to standard glass. While installing solar may be expensive upfront, it could help you save on energy bills in the long run.
Cons of building a home
As many positives there are for building a home over buying one, there are a number of negatives too.
1. Time
Unless you've signed up to a 'Block-esque' type show, where they build your home in under a week, chances are your build will take time and lots of it. While buying a home means you can move in upon completion of finance and paperwork, building a home could take anywhere from six months to a year, or even longer. You need to factor in the cost of renting elsewhere while you complete your build. This can quickly add up and might also mean you have to live somewhere you don't like.
2. Construction loans
A construction loan is a specific type of home loan designed to assist the funding of a new home's construction. Although construction loans are great for when you're building home, when compared with normal home loans, they have a number of downsides. Most notably, they typically have higher interest rates, which could cost you more over the life of your loan. Furthermore, they can have higher fees, require a larger deposit and they don't tend to function as a normal home loan does, drawing out the process through financial red tape.
Source: Savings.com.au
Bell, A. (2021, December 29). Building vs buying a home: What's cheaper?Savings.com.au. https://www.savings.com.au/home-loans/should-you-build-or-buy-a-home